Choral Arts New England Hosts Webinar, July 12: Singing at a Distance
Recording now available! Choirs around the world are struggling with the prospect of a continued hiatus from in-person singing. Some choirs have begun to test methods for rehearsing and performing under their local social distancing guidelines. Others are experimenting with methods for singing together via the internet. It is a time of experimentation which is sometimes frustrating and confusing. Our guest panelists from around the world will share their experiences of negotiating the transition back to live performance and provide some perspective on the options open to us all as we think about a return to live, in-person — irreplaceable — communal singing.
Panel:
Kayla Gautereaux (Boston, MA; New England Conservatory)
Lucas Heller (Leipzig, Germany; Ensemble Nobiles)
Rebecca Hickey (London, UK; Stile Antico)
Kathryn E. Schneider (New York, NY; City Bar Chorus)
Jan Thomas (Leipzig, Germany; Gewandhaus Chor)

Gregory W. Brown (CANE board chair; host & moderator)

This event is free and open to the public via Zoom as a webinar. Please note that registration is required and attendance is capped at 100 persons. The event will be recorded and the recording will be made available.
To stay informed about this topic, sign up for the Choral Arts New England mailing list and click the "Singing at a Distance" interest box.

When: Jul 12, 2020 02:00 PM Eastern Time (US and Canada)
Topic: CANE Conversations: Singing at a Distance Webinar

Register in advance for this webinar:
https://us02web.zoom.us/webinar/register/WN_ZoYr1VYmQy61XbW7hqXCjw

After registering, you will receive a confirmation email containing information about joining the webinar.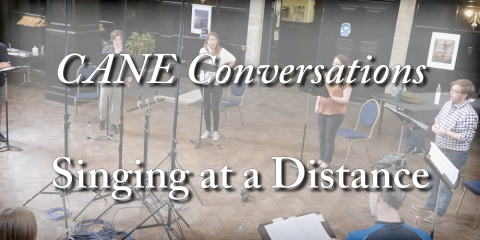 Effective date:
Friday, July 10, 2020

to

Saturday, August 1, 2020