Robert De Cormier: 2006 Lifetime Achievement Award Recipient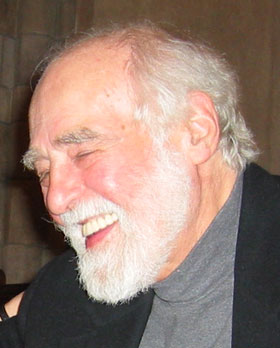 This year Choral Arts New England honors Robert De Cormier for his exceptional service to choral music and to the choral community. The award was presented in a ceremony October 22 at First Parish in Weston, Mass.
Now based in Vermont, De Cormier prepares and conducts the Vermont Symphony Orchestra Chorus and Chamber chorus, which he helped to found. In 2000 he established Counterpoint, an 11-voice professional vocal ensemble. That same year the conductor, composer and arranger received the Governor's Award for Excellence in the Arts from the Vermont Arts Council.
In 1995 he began a two-year project based on music produced in the concentration camp at Terezin, Czechoslovakia. With generous arts funding, including the first grant awarded by the Spielberg Foundation, he mounted and conducted productions of Brundibar, a children's opera by Hans Krasa, and The Emperor of Atlantis, an opera written by Viktor Ullmann. The operas toured throughout Vermont, Massachusetts, and New Hampshire, culminating in a performance at Merkin Concert Hall in New York City.
A graduate of the Juilliard School of Music, De Cormier served for seventeen years as music director of the New York Choral Society. Other conducting engagements have taken him from Broadway and opera to the Berkshire Choral Institute and the Zimriya World Assembly of Choirs in Israel.
His choral works, Legacy, Four Sonnets to Orpheus, Shout For Joy and Under A Greenwood Tree, were premiered at Carnegie Hall by the New York Choral Society. Spiritual Suite, commissioned by the West Village Chorale, premiered in New York in 1991. He has also arranged extensively, from African-American spirituals to American and international folk songs.
De Cormier's television credits include a three part series on Choral Folk Songs for the BBC and an Emmy award-winning special with Harry Belafonte. He was the choral director for a combined concert, TV special and recording for PBS starring Jessye Norman and Kathleen Battle, conducted by James Levine, as well as Christmas at Carnegie with Kathleen Battle and Frederica Von Stade, conducted by Andre Previn.