Craig Smith: 2007 Lifetime Achievement Award Recipient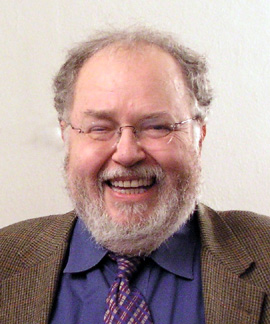 This year Choral Arts New England honors Craig Smith for his exceptional service to choral music and to the New England choral community.  The award was presented by Choral Arts New England Chair Andrea O'Connell in a ceremony on Sunday, October 28, 2007, at King's Chapel Parish House in Boston Mass.
Craig Smith died after a long struggle with illness on November 14, 2007. Choral Arts New England joins many others in mourning his death as well as celebrating his life, during which he has brought great beauty into the lifes of many and inspired choral performance at the highest levels. Memorials have been posted at Emmanuel Music andNew England Conservatory (and many other places).
Craig Smith was the founder of Emmanuel Music and has served as its Artistic Director for 35 years. In that time, his most famous achievement (but by no means his sole accomplishment) has been to lead performances of all of the Cantatas of J.S. Bach, one each week, in the context of the Sunday worship service at Boston's Emmanuel Church. He has done this at the highest artistic level, building a national reputation for his chorus, orchestra, and performance style. He has provided an example of the highest level of the choral arts and in the process has nutured the careers of numerous choral singers and soloists.
The citation reads:
LIFETIME ACHIEVEMENT AWARD 2007
Presented to
CRAIG SMITH
In honor of his multi-faceted contributions to the choral arts as
teacher, conductor, collaborator and guide.
You brought us Bach as Bach intended.
You taught us to explore the Cantatas from the inside out, and in their entirety.
You created a nurturing environment for artistic expression at the highest level.
You shared your vision with the finest musicians of our time,
and showed all of us how to hear what you have seen.
Unfortunately, Mr. Smith was unable to receive the award in person. Pat Krol of Emmanuel Music accepted the award and read a statement on his behalf:
"I want to thank Choral Arts New England for this prestigious award. I'm sorry my health does not allow me to be at this gathering today. I'm deeply honored by this award and honored to be in such distinguished company. Many of the previous recipients were colleagues—Blanche Moise, Don Teeters, and Dan Pinkham—and I treasure my years studying with Lorna Cooke De Varon.
"Choral music is an important part of New England culture. We are lucky in this part of the world having great choruses doing great music, but mostly we treasure the large number of sophisticated choral singers who have made our lives richer in the pursuit of this great literature."