John Oliver: 2011 Lifetime Achievement Award Recipient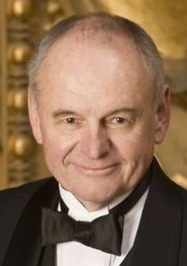 John Oliver, 2011 recipient of the Alfred Nash Patterson Lifetime Achievement Award, recently celebrated his 40th anniversary as conductor of the Tanglewood Festival Chorus, which he founded at the request of the Boston Symphony Orchestra to be their official chorus. Through his active development and advocacy, the chorus has become one of the premiere symphonic choruses in the world, praised for its performances in a wide variety of repertoire, including not just large symphonic and operatic works but also smaller works both accompanied and a cappella. The TFC has been featured on more than forty commercial recordings with the BSO and the Boston Pops, including three of the four initial releases on the symphony's recently-launched label, BSO Classics. One of those, Ravel's Daphnis et Chloé, won a 2010 Grammy award. Recently, BSO Classics released a collection of recordings of TFC unaccompanied performances at Tanglewood.
The TFC exposes audiences to choral music at the highest level, including some that is very hard to produce without the resources of a major orchestra. Through performances with the orchestra, the chorus reaches musically literate audiences that might not otherwise attend a choral concert—a positive experience that encourages those listeners to seek out more choral music. In addition, BSO commissions for the TFC (including, recently, William Bolcom's Eighth Symphony and James McMillan's St. John Passion) have broadened the choral-orchestral repertory. The growing success of the chorus has enabled the BSO to increasingly include the TFC in the programming, marketing, and identity of the orchestra—perhaps uniquely so among major symphonies.
Those accomplishments reflect both John's skill in training the chorus and his ability to recruit many of the best singers in the area—no mean feat in Boston's highly competitive choral environment, particularly for an ensemble with no paid singers. With about 250 members, the TFC includes many singers, teachers, choral directors and members of other singing groups from throughout New England. Those members bring the inspiration and the knowledge they gain from the TFC to their own choirs and students, thus enriching the greater choral community.
John Oliver obtained his first church-choir directing position at age eleven and went on to lead numerous ensembles of all ages and backgrounds, including the Framingham Choral Society and, from 1977–1996, his own John Oliver Chorale, which performed and recorded a wide-ranging repertoire that included many neglected masterworks and notable compositions by living composers.
A distinguished educator as well as a conductor, John Oliver served on the faculty of the Tanglewood Music Center for 20 years and on the faculty of MIT for 32 years. Through his teaching and personal inspiration he has had a major impact on musical life in New England and beyond. He has enriched the lives not just of the countless students, fellows and singers whom he has directed but of all the musical community.