Table for More: Race, Access, InClusion and Equity
NATS Boston, Boston Singers' Resource, and the Greater Boston Choral Consortium host a four-part Interactive Webinar Series, presented by G. Phillip Shoultz, III of VocalEssence (Minneapolis), intended to be a place for interactive discussion of discrimination and injustice in the vocal and choral community. As recent events have made clear, the issues surrounding accessibility, inclusion, and equity demand our attention and action now more than ever. The series takes place on Wednesdays in August from 11:00 am to 12:30 pm. Participation is free and open to all, with advance registration.
Each session will feature a 45-minute keynote presentation, be followed by small break-out rooms for discussion, and conclude with room for guided conversation.
Session 1, Aug. 5: Race, Access, InClusion, and Equity. The VocalEssence Singers Of This Age Story- A Framework for our Work Together
Session 2, Aug. 12:  InClusion and Equity. With Guest Presenter Quanice G. Floyd, founder and director of Arts Administrators of Color
Session 3, Aug. 19:  Race and Access as it relates Pedagogy and Repertoire. With Guest Presenters Dr. Marques L.A. Garrett, Composer and Assistant Professor, University of Nebraska-Lincoln, and Darryl Taylor, singer, actor, educator and founder of the African American Art Song Alliance
Session 4, Aug. 26:  Creating an Action Plan: Where we have been. What we have learned. Where we go from here.
Click here to register for the event.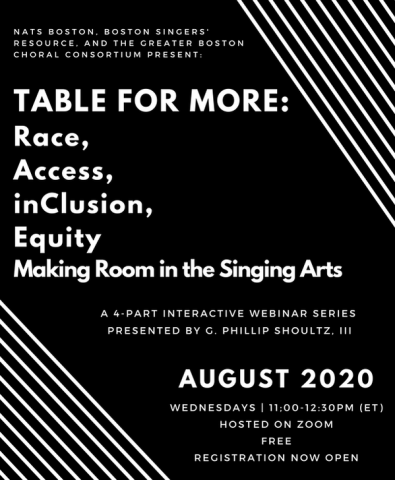 Effective date:
Thursday, July 23, 2020

to

Wednesday, August 26, 2020