Choral Arts New England Award Ceremony Honors Lifetime Achievement Award Winner Marguerite Brooks and Fifteen Recipients of Alfred Nash Patterson Grants
Choral Arts New England will hold its 35th annual awards ceremony and reception on Sunday, November 3, 2019, honoring our 2019 Alfred Nash Patterson grant recipients and our Lifetime Achievement Award winner, Marguerite Brooks. The ceremony will take place at 3:00 pm at Old South Church, in Copley Square, Boston, with a reception to follow. The event is free and open to the public. All are welcome.
The Lifetime Achievement Award has been awarded annually since 1994 to individuals who have made exceptional contributions to choral singing and its culture within New England.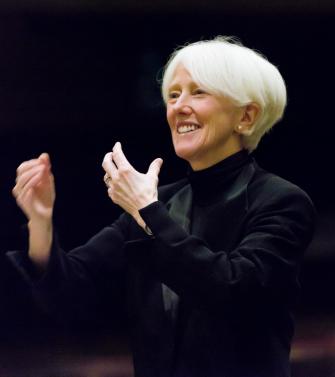 Our 2019 award recipient, Marguerite Brooks, has enriched the choral community in New England and throughout the United States through her inspirational leadership, teaching, and artistry. She joined the Yale faculty in 1985 as chair of the choral conducting program at the School of Music and director of choral music at the Institute of Sacred Music. As founder and conductor for over 30 years of the Yale Camerata and Chamber Choir, she has brought together students, faculty and staff as well as community members from throughout New England to perform choral music from virtually every age and genre. Active as a guest conductor, teacher, and clinician, she has been a juror for the Eric Ericson conducting competition in Sweden, and has conducted, given master classes, taught, and adjudicated in North and South America, Europe, and Asia.
Brooks's broad vision for music-making has been passed on to her students, who can be found in positions of musical leadership throughout New England and around the world. Among her students are the founding conductors of the Grammy-­‐nominated vocal ensembles Conspirare, Roomful of Teeth, and Seraphic Fire, the Music Directors of major New England choruses such as Chorus pro Musica, CONCORA, and Seraphim Singers, and numerous leaders of church and religious music programs. In a recent survey, alumni often cited her as their primary reason for attending Yale and as the person who influenced them the most.
Brooks has served on the faculties of Smith and Amherst Colleges and was director of choral music at the State University of New York at Stony Brook. She has been cited by the Yale School of Music for cultural leadership in music and has received alumni awards for distinguished work in her field from both Mount Holyoke College and Temple University. The Connecticut chapter of the ACDA honored her with its 2016 Lifetime Achievement Award.
Alfred Nash Patterson Grants have been awarded continuously since 1985. The grants support choral excellence in New England and can be awarded to New England choruses – both volunteer and professional, parent organizations of New England choruses, and New England organizations that provide support to choral music. Over 260 Alfred Nash Patterson grants, totaling over $330,000, have been awarded since 1985. Fifteen recipients, out of over 50 applicants from across New England, have been awarded grants for the 2019 season. This year's supported projects include a musical commemoration of the 400th anniversary of immigrant Pilgrims landing on the shores of the Wampanoag nation at the tip of what is now known as Cape Cod, as well as support of the Fairfield County Children's Choir's 25th anniversary concert at Carnegie Hall.
Grant recipients for 2019 are:
Burlington Choral Society (Burlington, Vt.), Richard Riley, Artistic Director
Cantilena (Arlington, Mass.), Jennifer Kane, Music Director
ChoralArt (Portland, Maine), Robert Russell, Music Director
Chorus Angelicus (Torrington, Conn.), Gabriel Löfvall, Artistic Director
Commonwealth Chorale (Newtonville, Mass.), David Carrier, Artistic Director
Coro Allegro (Boston, Mass.), David Hodgkins, Artistic Director
Fairfield County Children's Choir (Trumbull, Conn.), Jon Noyes, Music Director
Greater Boston Choral Consortium (Boston, Mass.), Alison LaRosa, Chair
Lorelei Ensemble (Cambridge, Mass.), Beth Willer, Artistic Director
Montpelier Community Gospel Choir (Montpelier, Vt.), John Harrison, Director
New Hampshire Master Chorale (Plymouth, N.H.), Dan Perkins, Music Director
Outer Cape Chorale (So. Wellfleet, Mass.), Allison Beavan, Artistic Director
Somerville Community Chorus (Somerville, Mass.), David Giessow, Music Director
South Shore Children's Chorus (Quincy, Mass.), Kirsten Oberoi, Artistic Director
St Mary Schola (Falmouth, Maine), Bruce Fithian, Music Directo
Full details about each organization and its funded project can be found elsewhere on this web site.
The ceremony will include appearances by each of the grant recipient organizations, remarks by Lifetime Achievement Award recipient Maggie Brooks, and performances by choirs led by Brooks' former students. A gala reception in Old South Church's Gordon Chapel will close the ceremony.
Effective date:
Monday, September 9, 2019

to

Sunday, November 3, 2019