John Finney: 2020 Lifetime Achievement Award Recipient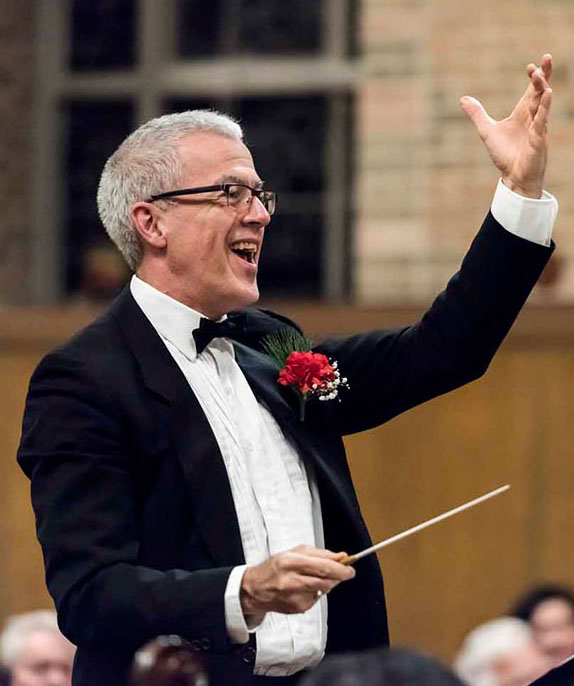 Active in Greater Boston's choral community for nearly 40 years, John Finney has long been recognized as one of the area's premiere musicians. Throughout his distinguished career, he has played a leading role in four distinct choral genres—professional choirs, adult choral societies, collegiate choirs, and church choirs—while simultaneously building a stellar reputation as an organist and orchestral conductor. He has brought great choral music to audiences everywhere, and has inspired and educated singers at all levels—church choirs and parishioners, college students, community volunteers, and world-renowned professionals—to bring that music to life.
Finney was Associate Conductor and Chorusmaster of Boston's Handel and Haydn Society for 24 years, from 1990 to 2013. He was Conductor of the Heritage Chorale in Framingham from 1987 until his retirement last year; for 34 concert seasons, he led the Chorale in acclaimed performances of major choral works with orchestra as well as lighter Pops programs, and he directed the Chorale during three international concert tours. Named Distinguished Artist-in-Residence at Boston College in 1999, Finney has been Director of the University Chorale of Boston College since 1993 and Director of the Boston College Symphony Orchestra since 1999. He continues to serve as Director of Music at the Wellesley Hills Congregational Church, a position he has held since 1984.
An internationally known organist and expert on early music, Finney holds degrees in organ performance from the Oberlin College Conservatory of Music and The Boston Conservatory. He has served on the organ faculty of The Boston Conservatory and has taught at the Academy for Early Music in Bressanone, Italy. Since 2013, he has served as principal keyboardist, as well as Conductor and Choral Director, at Blue Hill Bach in Blue Hill, Maine.
The award is presented at the Choral Arts New England 2021 Awards Ceremony (no ceremony was held in 2020 due to the pandemic).