Donald Teeters: 2005 Lifetime Achievement Award Recipient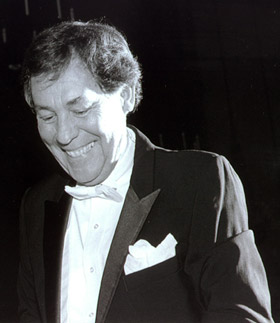 Each year, Choral Arts New England honors a musician for exceptional service to choral music and to the choral community in New England. Donald Teeters is the recipient of C.A.N.E.'s 2005 Lifetime Achievement Award, presented at a 3:00 p.m. ceremony on Sunday, October 16 at All Saints Parish, Brookline, Mass.
In 2006, Teeters will celebrate his fiftieth anniversary as organist/music director in Episcopal churches in the Boston area. While still an undergraduate at New England Conservatory he was offered the music leadership position at St. Andrew's Church in Wellesley, where he served for ten years. Since 1967, he has been the principle church musician at All Saints, site of this year's awards ceremony.
In 1964, Alfred Nash Patterson offered him the position of keyboardist for Chorus pro Musica and later added associate conductor to the title. During the four years Teeters worked for and with Bud Patterson, numerous opportunities to perform at the keyboard and as conductor arose. These included CpM performances in Symphony Hall (Bach's "St. Matthew Passion," as continuo player, the Brahms "Ein Deutsches Requiem," as organist, Orff's "Carmina Burana," as pianist), as well as in Kresge Auditorium at MIT, at the Harvard Club, and in various church concerts, especially at Old South Church where Bud was music director. Teeters also assisted Bud in preparation for several CpM performances with the Boston Symphony, including a Bach "St. John Passion" and Wagner's "Lohengrin" at Tanglewood. Patterson was instrumental in obtaining a Tanglewood Fellowship for Teeters for the 1967 season, where he served as keyboardist for the Fellowship Singers and assisted in several other musical capacities.
In 1967, Thomas Dunn invited Teeters to join him as associate conductor and rehearsal keyboardist in Dunn's first season as music director of the Handel and Haydn Society. The following year Teeters was appointed music director of The Cecilia Society (now The Boston Cecilia) and for several years continued with both institutions.
In his work with The Boston Cecilia, Teeters has claimed a special position in relation to the works of G.F. Handel. In 1982, Cecilia began what was never intended to be, but has evolved over time into, a comprehensive survey of Handel's major dramatic works for chorus. These period instrument performances have elicited highest praise from public and critics alike, and have played an important role in establishing Boston as a major world center for stylistic Handel interpretations and informed performance practice.
Teeters has also led the Boston Cecilia in significant explorations of English music (especially of Benjamin Britten) and American 20th century repertoire, including premieres and commissions from important New England composers. In 1979, he led the first Boston period instrument performance of Monteverdi's "Vespers of 1610," and in 1981, the first American period instrument performance of the "St. John Passion." In November 2005, Teeters and Cecilia give the Boston premiere and only the second-known U.S. performance of Handel's classical one act dramatic cantata, "The Choice of Hercules." Cecilia has recorded in recent years for Koch International and Newport Classic.
Donald Teeters was a member of the New England Conservatory organ department faculty from 1970 to 2002. He received that institution's Distinguished Alumni Award in 2004.