Roberta Humez: 2002 Lifetime Achievement Award Recipient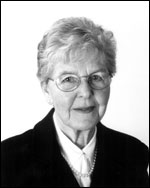 Roberta Humez, founder of Youth Pro Musica, was honored on November 2, 2002, by Choral Arts New England for her gracious and generous cultivation of the spirit of choral music in young people from grades three through 12. See the news story for more about the awards ceremony.
Her goal in founding Youth Pro Musica was to provide children with access to excellence in choral training within the greater Boston area and to present performances and collaborations with other performing organizations by:
Establishing a training chorus
Developing an advanced high school ensemble
Commissioning new works for treble voices
Nurturing exchange programs with handicapped and disadvantaged persons to share music as broadly as possible
Providing scholarships to include a wider range of students
These goals have been fulfilled in performances with the Boston Symphony Orchestra, the Cantata Singers, the Opera Company of Boston, and as part of Revels and American Repertory Theatre performances.